This has been sitting on the "to do" pile for a while, and I am deeply relieved the conundrum has been resolved as well as it seems to have been.
I needed a church and a swanky address a long walk's distance apart. And here we have St. Mary Abbots,
which looks exactly inside as I'd wanted it to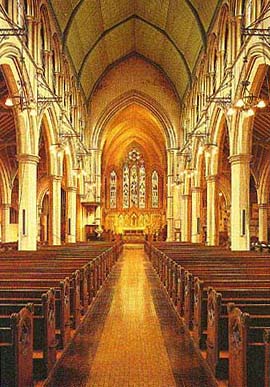 and is a 40-minute walk from Mayfair,
where Vivian realizes she may not prefer posh city living, adjoining "secret gardens" notwithstanding, to the crumbling family estate. In fact, that walk could easily take an hour if one were to dawdle on the Serpentine Bridge between Kensington and Hyde Parks, allowing other mourners to reach the funeral reception well before the protagonists do.
I like the idea of including the bridge, as the Serpentine Swimming Club awards the Peter Pan Cup to the winner of a 100-yard race every Christmas morning. The race has been held since 1864, and the original prize was a gold medal, but in 1904--the year "Peter Pan" made its theatrical appearance--our friend Mr. Barrie inaugurated the award that is still presented today. Admittedly, anything that takes place in Kensington Park is likely to be related to Peter Pan, but it's still fun.